With Big Data and the large volumes of data available, it is currently necessary to have data visualization tools that allow us to graphically represent, in a simple and clear way, valuable information for business decision-making.
Data in ecommerce has become an indispensable asset for companies that learn how to use it. In order to take advantage of data, it is not enough to collect it. Without a tool capable of processing them and transforming them into useful and actionable information, easy to visualize , it will be difficult for us to operate on them.
With data visualization it is possible to focus on the most important KPIs , through attractive dashboards for the receiver, which allow speeding up the decision-making process, identifying trends and optimizing times , among other benefits.
What advantages and benefits does data visualization have?
With the exponential increase in the volume of data due to the rapid growth of electronic commerce in the world, data visualization is key for companies that intend to make appropriate use of this information to detect opportunities and/or improve their processes.
There are multiple advantages of having an adequate visual data tool. In this article, we'll go over the 4 most essential benefits of data visualization. 
Easy to understand
The main advantage of data visualization is that it allows you to instantly and easily understand large volumes of data represented through various graphic formats.
It has been shown that the human brain responds better to visual cues than to written content. It is faster and easier for the brain to process information visually than through reading and understanding texts or numbers.
With a data visualization tool, key decision makers in companies can access valuable information at a glance and in real time.
The possibility of absorbing information in real time makes act immediately, anticipating decision-making to avoid possible inconveniences or to improve processes that can translate into economic benefits for companies.
Thanks to technology and data visualization, companies can currently have a global and unified vision of their operations , monitoring at all times what is happening in their companies.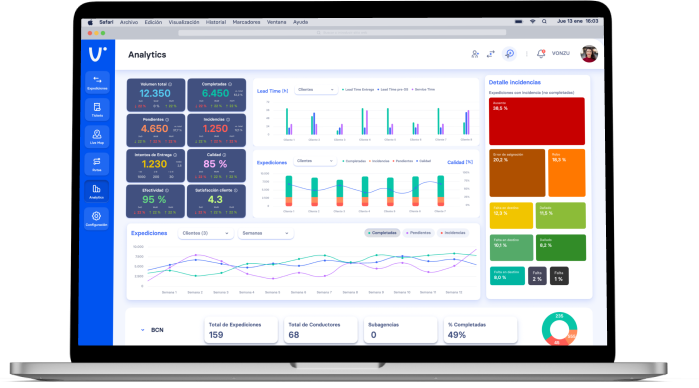 pattern detection
Another of the benefits of having visual data has to do with the possibility of identifying patterns and trends to improve customer experience and satisfaction .
Being able to visualize data related to the behavior and purchasing habits of consumers, allows detecting patterns that will allow companies to develop marketing strategies to boost their sales , improve customer service processes, optimize their logistics chain , among other advantages.
In a market as competitive and increasingly demanding as that of electronic commerce, this possibility can be crucial to gain an advantage by making decisions based on concrete and real data that guarantee the sustainability of the business .
Help in decision making
As we have been mentioning, ultimately what data visualization points to is the possibility of making better decisions, at the right time.
With adequate data visualization, it is possible not only to substantially speed up the decision-making process, but also to limit the margin of error on wrong decisions made blindly.
With the volume of data available about customers and market conditions, and a good visualization tool for that data, business leaders who know how to take advantage of it will have key information to detect business opportunities before their competitors.
In short, data visualization facilitates the analysis of key information in order to act more quickly and efficiently , helping companies in making strategic and operational decisions.
Time saving 
Data visualization allows companies to save time and resources in generating complex reports through outdated dashboards or excel sheets that also run the risk of misrepresenting the data.
Through accessible and visually easy-to-understand information, collaborators from the different departments of a company can focus on the analysis of key indicators for decision-making , saving data processing time and report production.
In addition, thanks to the data visualization screens, the main KPIs of a company are updated in real time and can be consulted at any time, from multiple devices, always having the data at hand when needed.
conclusion
With data visualization, companies can analyze the main metrics of their business in a simple, clear and real-time way, promoting agile and efficient decision-making.
Through graphics, heat maps and other visual formats, it is currently possible to access large volumes of data transformed into valuable information, which allow a global and unified vision of the business.
This possibility not only means significant time savings in data processing and report generation, but also allows opportunities and trends to be identified , either to improve the profitability of the business or to improve some operational and/or logistical process.
Thanks to the visualization of data and statistics in real time, today it is possible to anticipate decision-making through tools that offer different functionalities that facilitate the management of this data.